They Say
1080p HD video recording with 16 megapixel CMOS image processor
Chroma display: colour, high-resolution; easier control of setup, playback and adjustments
High-sensitivity GPS, accelerometer and barometric altimeter
Wi-Fi connectivity; use with free mobile applications for iPhone® and Android™
Rechargeable, 2000 mAh lithium-ion battery, record up to 3 hours at 1080p
The VIRB Elite is a true HD 1080p action camera that combines enhanced HD video recording with Wi-Fi capability and advanced GPS functions like preset recording profiles. For example, the Ski profile automatically records during the run but pauses when you get to the bottom. VIRB Elite features a built-in 1.4" Chroma color display that stays on when the camera is on, but uses minimal power. The display lets you easily setup/preview/playback video and adjust menu settings without detaching it from its mount. Record at 1080p for up to 3 hours with the rechargeable lithium-ion battery. And video enhancement features like Digital Image Stabilization and Lens Distortion Correction ensure footage looks great, even before you start editing.
True High Definition Recording
VIRB Elite records true HD 1080p video that lets you relive every minute of your adventure in full, high-contrast, undistorted detail. In addition to 1080p@30fps, you can adjust resolution and filming speed for crisp, dramatic slow motion up to 120fps. And it's all processed through a 16 megapixel CMOS sensor so you get the highest quality video and a more manageable file size for editing and sharing. Multiple HD video modes: 1080p@30fps, 960p@48fps, 720p@30/60fps, 848×480@120fps.
1.4″ Chroma Display
Why mash a button and hope you got the shot when you can set-up, preview and playback video on a built-in, full-color Chroma display? The 1.4″ display on the VIRB is also your window into the menu settings. Check your shot before you leap, choose slow motion, or even switch between video and still photography. It's always on the screen and the screen is always on (but uses minimal power).
Long-life Battery
VIRB Elite features a class-leading 2000 mAh lithium-ion battery that has been tested at nearly 3 hours recording at 1080p. Which means there's a good chance you'll tire out before the battery does. And with multiple charging options (sold separately) you'll have plenty of juice. Extend your filming time by carrying a replacement battery (sold separately) on your all-day adventure.
Connect Wirelessly to Your Smartphone
VIRB Elite is equipped with Wi-Fi for wireless communication to your smartphone or computer. Wi-Fi enables you to see the image preview. Control for playback and adjust camera settings. Plus record and stop the camera as well as remotely snap still photos, even while the camera is filming.
Film The Run, Not The Lift Line
VIRB Elite features high-sensitivity GPS for data stamping and GPS-based "smart" recording profiles like Skiing Mode, which automatically records your downhill runs and stops recording while you're getting hot cocoa or waiting in the lift line.
Sensors, Sensors and More Sensors
VIRB Elite's ANT+™ wireless connectivity also works with Garmin external sensors. Pair with the tempe™ wireless temperature sensor, speed/cadence bike sensor and the premium heart rate monitor to include revealing sensor information in your videos, like how fast your heart was racing on your last bike race or peering over the edge of the Grand Canyon. Elite also features a built-in accelerometer and altimeter for data stamping and custom filming profiles.
Sleek and Easy-to-use
VIRB Elite was engineered for ease-of-use with a large, instant record slider switch on the side of the camera. The slide and click of the switch makes it easy to know that you are recording, even if you're wearing gloves. The overall design of the camera is both sleek and rugged which helps you integrate VIRB into your activity without having to work around a bulky camera body. So go ahead and ski or zip-line or even bobsled knowing you got the shot (and maybe the best time).
Control VIRB Remotely
VIRB Elite uses ANT+™ wireless connectivity to enable you to use your compatible Garmin product like fenix™,Oregon® and Edge® as remote controls. With VIRB Elite, you also gain the advantage of Wi-Fi so you can stop and start recording or take still images wirelessly with your smart phone or compatible Garmin device. Now, you don't have to take your hands off the handlebars or remove the camera from the mount for that perfect shot.
Digital Image Stabilization and More
With the Digital Image Stabilization feature engaged, VIRB Elite adds a little stability to bumpy rides and adventures so you can share a smoother video with your friends. Plus Lens Distortion Correction (LDC) works to enhance the quality of your video, even before you start editing.
High Definition Photography
VIRB Elite is a high-powered digital photo camera too. With 16 megapixel photo capture LDC plus a WideVü lens (Wide/Medium/Narrow) to make your photos sharper, clearer and less distorted. Shoot 16 megapixel, 12 megapixel, or 8 megapixel as a single shot (on-camera button or controlled remotely) or choose Photo Burst (6/s)or Time Lapse at various intervals. And it's all processed through a 16 megapixel CMOS processor for high quality images and more manageable file sizes.
Shoot Video and Photographs at the Same Time
Don't lose a moment of video just to capture a photograph. VIRB Elite allows you to take still photos at the same time you are recording video with just a touch of the button on either your compatible Garmin device or on the camera itself.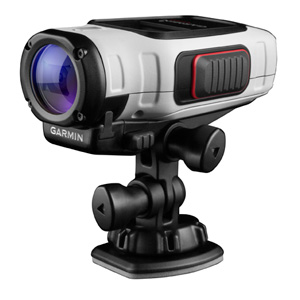 We Say – Ok, this is going to be a long review, so bear with us. First of all, I'll fill you in on my start point, as that's important I think. I use my action cameras mostly to film runs, and very occasionally, bikes rides, hikes and other adventures. For the past 2 years I've been using a Go Pro, and that's what my PC system is set up for. The Go Pro has it's good and bad points. Good is that it's very light and I can wear it during marathons with no problems, and that the video and audio quality is relatively very good. Bad is that it's not at all waterproof and if you put it into it's waterproof housing the audio quality drops so far it's not worth having, and also, the video footage it produces isn't compatible with my PC, which has a regular Windows operation system, which means after a race I have to spend 2 or 3 hours converting the footage into a WMV or MP4 file.
There's also the matter of it not having a viewing screen, so you have to guess a lot when you're framing a shot, and the navigation of it's various functions isn't at all easy to master. After 2 years with the Go Pro I was still making mistakes, often, when trying to delete footage or set the video or photo resolution formats. So since I am getting more into obstacle racing, where the cameras tend to get wet, and the Go Pro has it's issues, I thought it was time to try a new camera.
I picked up this Garmin Virb Elite, along with it's printed manual, and got to grips with the basic operation of it inside 10 minutes. The buttons and functions are all logical and the large button on the left, which starts the record mechanism whether the camera is turned on or not, is a great idea. It means I can have the camera off for large portions of the event and then not have to bother to fiddle with a small 'On/Off' button whilst the camera is strapped to my head, I can just flick on the large button and it's alive and filming inside about 8 seconds (if the camera is on at the time you flick the record button, it's starts to record immediately, but if it's off it does take between 6 and 10 seconds, depending on battery power, to start up and begin recording).
The screen takes power from natural light to make it brighter. This is apparent when you look at the screen indoors and then again outside; outside it's much easier to see. The screen is a great attribute, it means you can frame really well, and easily, and see the menus well as you navigate between them.
The first thing I did with the Virb Elite was shoot a bit of footage in my room and then try to upload and edit it on my existing video software, which is a cheap Corel package. It was an easy task, I'm happy to say. We've probably all had experience of our PC's not recognizing this device, or that format, and having to spend loads more money or time trying to make things work. Not with this Garmin though. It uploaded easily, and I could begin editing it's footage straight away, no file conversion needed.
The next task was to see how Garmin's own editing software installed and operated. It is free to download from Garmin's website, and it seemed to install with no problems. Since then I have had issues every now and again with the software stalling, and then I have to close the program down and re-open it before continuing, but nothing more serious than that. Hopefully, it'll settle down after a few months and stop doing this. I often have issues with new software for my sports electronics but once them bed themself in, the problems tend to go away.
The software is very basic and the only reason to use it, that I can see at this early stage, is if you don't have any video editing software already or if you want to have the GPS data of your run/ride showing on your footage. When you turn the Garmin Elite camera on, and activate the GPS, it will track your course, distance, altitude and speed, and also heart rate if you have a monitor fitted for that (I don't). Then when it comes to editing your footage you can choose from a variety of formats in which you can present your data on the screen, from a simple bar with numbers in the lower right hand corner to a speedometer or a compass design, which would be useful if you were flying, rally driving or motor biking I reckon.
There are loads of formats though, and that's a nice effect to have. The one disappointment is that when you're editing there is a 'google-style' map displayed above your footage that tracks your route through the landscape. It looks great. I would love to be able to have this as part of the finished video but unfortunately all you get on the finished screen is a line showing your route, but no map or anything else to indicate that this squiggly line marks your route. But apart from that it's a good, if basic, piece of editing software, and if all you want to do it take the footage off your camera and make a short film with no fancy effects apart from a little editing and music adding, then it'll do the job.
Here is a short film I made with the camera of an ultra race I completed recently.
And here's another one where I used it at an onstacle race. It handled the muddy water and jolting very well, as you can see.
Ok, onto the camera's features. Let's look at the Photo Mode. The highest resolution is 16mp and that comes in a 4:3 screen ratio. The second resolution down from that is 12mp in a 16:9 format. Then there's an 8mp mode in 4:3 ratio. Here's how the images taken in the first 2 modes (16mp and 12mp) look. Note, the colours and framing have not been messed with in Photoshop, this is what comes out the camera.
Here's another couple of photos taken in those modes, to give an idea of depth of field, colour saturation and general quality.
As you can see, the quality is pretty good. The image is a little blurry in the corners thanks to the curved lens so it's never going to be a replacement for a regular camera but still, if you want to take photos when you're at an event and this is the only camera you've got, I don't think many of us would be disappointed with this sort of output.
The photos above hint at the fact that the depth of field, or sharpness throughout the photo, is good. With this next photo, I was about 12 inches away from the canoe.
The Virb's screen doesn't show you all you will get in the photo. With this photo below, I couldn't see the top of the hut or in fact the bottom whilst looking at the screen. So this is worth bearing in mind whilst shooting.
A final thing to mention is the quality of the images taken at night time. Here's one, taken once more on the 16mp, 4:3 setting.
I think it's brilliant really, it captures the lighting well, and the falling rain, it's really excellent quality bearing in mind it's just a point and shoot and it's main function is a video camera.
Now to the Video Function. There are a great many combinations of settings that you can select but my favourite at the moment for running is the Ultra Zoom combined with Fast HD. This gives you a lifelike shot, rather than the very curved horizon/fish-eye look you get with the  'Wide' setting.
The microphone is good except for if a wind is blowing, in which case, the wind is all you're going to hear when you view the footage. Here's a short film I made which will give you a basic idea of how the microphone works, how the body mounts perform and also gives a look at the camera settings, and it's performance whilst I was running, day and night.
I have got a headstrap and and also a shoulder mount for the camera, but for running I prefer the headstrap. It allows you to film what you look at, the footage is less jolty as your neck acts as a sort of stabilizer and it just shows the scene, rather than the scene and part of my head, which happens when I use the shoulder mount.
Here below is another event film I made with the Virb Elite. This was my first real outing with it. I had it on Zoom Mode, which in effect gives you the sort of viewpoint that you'd get with your own eyes. It's worth noting that when I upload my films I have them at 5000fps and 70% compression in order to reduce upload times, although the average software will let you save up to 8,000fps and have it at 100% compression, so in reality you could get better quality than this if you wanted to have larger files on your computer and longer upload times to Youtube.
And here is another film I made with the camera. The temperature was around minus 10 and on 2 or 3 occasions the camera responded very slowly indeed when I pressed the 'Record' button but at least it kept on going and recording in what were very testing conditions.
So, for now, after a year of use and several outings in race conditions, I'd say I am very happy with the Garmin Virb Elite. The video quality is good enough to use it as a regular video camera for fun days out (I used it to film the family at Christmas) as well as using it as an action cam, which is a great bonus (it's nice to be able to use your kit for multiple tasks). The bottom of the camera is flat so if you don't have a tripod it can rest on most surfaces to produce still footage, and it's not so heavy that I can't comfortably wear it on my head for an Ultra Marathon.
It's also very easy to operate, it doesn't mind getting dirty, wet, very cold or knocked about a bit and the battery life is good – it wasn't even halfway depleted at the end of the Hellrunner event after 90 minutes of use. I think it's a great camera; got my trust and I happily recommend it.
Check out the Garmin Virb Elite here -Â https://buy.garmin.com/en-GB/GB/outdoor/action-cameras/virb-elite/prod119594.html
And to finish, here are 2 films I made in the extreme heat and humidty of Sri Lanka. The camera got soaked with sweat for hours on end yet it didn't malfunction at all. During the making of the first film my Nikon died in the jungle due to the humidity but I had no such issues with the Garmin.