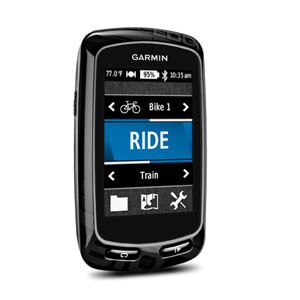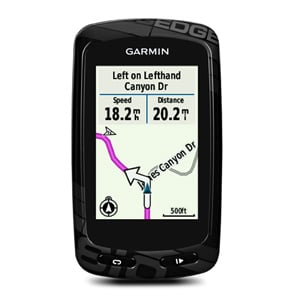 They say;
GPSÂ bike computer for cyclists seeking performance and navigation
Connected features¹: live tracking, send/receive courses, social media sharing, weatherBuilt-in basemap and optional detailed maps fornavigationDistance, speed, ascent/descent and GPS positionOptional heart rate², speed/cadence² and power³Wireless data transfers to Garmin Connect™ to analyse and shareActivity profiles store preferences for different cycling activities
This Is Your Edge
The touchscreen Edge 810 is designed for the cyclist who wants it all — navigation and advanced training capabilities in 1 device. It offers connected features¹ through your smartphone, including live tracking, social media sharing and weather. The 810 is compatible with optional detailed street or Ordnance Survey® maps, so it can guide your ride for touring, commuting or extended activities where you might need onboard maps and navigation. Because it's GPS-enabled, Edge 810 provides accurate data and navigation capabilities, anywhere in the world.
Track Every Detail
In addition to the mapping capabilities, Edge 810 records your distance, speed metrics, ascent/descent, grade and more. It's also compatible with ANT+â"¢ sensors that measure your heart rate², speed/cadence² and power³. The activity profiles feature allows you to customise data fields and device settings based on cycling activity, such as road, mountain or touring. Switch profiles with a simple swipe of the touchscreen and your device will be set up to show the data you need for that ride.
Get Connected
Edge 810 offers a suite of connected features when paired with your smartphone (Apple® or Androidâ"¢) and the Garmin Connect Mobileapp. This allows you to gain comprehensive, accurate ride data from a dedicated device, while saving your phone battery. Edge tracks the data and sends it to your phone using a Bluetooth® connection. Stay connected and share all the details of your ride with friends, family and your social media contacts. You can post an update immediately after your ride or race with details from your completed activity. You'll create your posts via your smartphone, and the ride data's already there, thanks to the interface with Garmin Connect Mobile.
Live Tracking
The live tracking feature allows your friends and family to follow your races and training activities in real time. Invite followers using email or social media, so they can view your live data on a Garmin Connect tracking page. Once they get your email invite, they can click to follow and see your stats and location on the map.
Weather
Get real-time weather conditions, forecasts and alerts directly on the Edge 810 when it's paired with your smartphone and the GarminConnect Mobile app. This feature is useful for extended rides, and it lets you keep your smartphone safe and dry, while the weather data you need is at your fingertips.
Wireless Data Transfers
Now you can instantly store, share and analyse every detail of your ride. The Garmin Connect Mobile app allows for wireless uploads of completed activities from your device as soon as you finish recording an activity. You choose whether activities are automatically or manually uploaded. Once your ride has posted to Garmin Connect, your own "connections" can view them. You can also search your courses and workouts4 stored at Garmin Connect, download to your smartphone, then send directly to your Edge 810 — wirelessly. You can then navigate to the start of the course and use the Virtual Partner® feature on your Edge to race your previous activities in real time.
Purpose-Built Bike Computer
There's no better bike computer to guide your ride. Edge 810 is rugged, waterproof and has a 17-hour battery life. The touchscreen is easy to operate, even with a gloved finger and when wet. Mounting options include a new out-front mount² for heads-up positioning and a standard quarter-turn mount.
¹When paired with your compatible Android or Apple device.
²Included with some models, sold separately on others.
³When paired with third-party ANT+ power meter.
4Future release of Garmin Connect Mobile will allow you to explore and download courses and workouts from other Garmin Connect users.
We Say -Â First impressions out of the box was that it had plenty of accessories and that the waterproof unit was good looking and pretty light. It came with two standard stem mounts and one out-front screwed handlebar mount that locates the unit further in front of the rider. The stem mounts are fixed by tough rubber bands that came in several different sizes as spares…all good.
Also in the box is a heart rate monitor and speed/cadence sensors. My test unit came bundled with the Navteq Europe City Navigator which is meant to provide detailed road coverage of major European metropolitan areas. The USB and mains charging kit also came with 110V plug adaptor for use outside the UK. All-in-all the the kit in the box seemed very comprehensive. I did notice that there were no detailed instruction books apart from the quick start booklets. I guess now that most businesses are becoming paperless the Internet is used to source the instructions. Apparently there is also a guide in a folder on the unit itself but like most of us, I never got round to reading it.
The main, improved feature of this unit over previous models is the large colour screen that enables the rider to view and track their route on the GPS enabled map. It also has a Garmin Connect Mobile app feature that you can connect your android or apple phone to. This enables you to live track to others a link of your real time route and view weather reports and transfer data wireless to Garmin Connect.
Now the Garmin Connect app/site is worth noting here as its a great on-line community data sharing site. What this roughly translates to is you upload all the rides you've done then view and compare the various data's such as average speed, elevation gain as well as calories, fastest speed, time and distance. In addition to this you can also compare strokes, efficiency, cadence and power. So there is loads of data here to compare for the pro teams or competitive individual alike. I found it interesting looking at my max speed (43.8) and average speed but I wish the site had average moving speed like on the unit. This is handy if like me you like to stop and take the occasional photograph.
Another great element is that you can explore other riders uploaded routes so therefore it helps give ideas to deciding ones own route-making. Some have uploaded well known sportive routes. For instance, looking around my own area I discovered several wiggle hell fire sportive routes, a 50m standard and 80m epic…great!
The navigation is pretty good, keeping well up with the pace and predicting the distance of approaching turns. Sometimes the accuracy left a little to be desired. If I was riding a previously uploaded course it would sometimes suddenly tell me that I was going the wrong way and then tell me to turn around! At first I believed it, even though I knew the route well, thinking perhaps it was suggesting a better alternative but same distance route. Nope, it was simply just giving me the wrong directions which I was a little surprised at as I live in a very well charted area of the world, the south east of England.
I guessed it could not have been that and must of had more to do with connecting with the satellites. Although I thought that there were loads of satellites floating around the planet. Anyway, I concluded that if you are not familiar with an area, take a map. In fact, take a map anyway, its much more user friendly. That is not to say that this unit is no good at navigation, because it is. It's just not…well…100% correct yet. I actually think if you were touring and used this with a regular map as well you would have less chance of making a wrong turn.
Battery life was about 10 hours constant use. I know this as I rode 4 days London to Edinburgh and it just lasted each days ride which was about 10 hours. Sometimes powering down before I got to the days finish. It could possibly last longer with brightness turned down and auto stand-by turned on but I was just testing it 'out of the box' so to speak.
In Summary - I stopped using cycle computers years ago because I found myself looking at the little screen trying to do PB's all the time. Which is fine if you want to performance cycle but nowadays I like to take in and enjoy the scenery, take a few photos, maybe even take afternoon tea and cake. Well, I can say that since I stopped using them, these units have really come on, with GPS and smart-phone connectivity making them great little bits of kit for your bike.I really liked the Garmin Connect Mobile app and website. It seems a bit techy at first but is great once you get used to it, checking out yours and others rides regarding routes and stats. I also liked that you could save several different bike profiles like a racer, mountain and touring bike and switching between these profiles was easyI did not like the lack of intuitiveness and think that this could be improved. Sometimes I would change settings accidentally or press the wrong thing and not be able to go back. Sometimes I would record a route and then accidentally save the ride only halfway through. Admittedly it was mostly human errors but it should take human inadequacy into account!
I had not used any model of Gamin's before so it's initial lack of intuitive user friendliness made it very frustrating early on in the test period. So much so in fact that on the first outing with it I gave up trying to get to grips with it altogether and switched it off as it was making the ride less enjoyable. I later learnt that this was not uncommon, with a fellow reviewer having the same trouble of intuitiveness using a Garmin running device.
So it seems that this is not a device that you take straight out of the box and use with ease. It requires a bit of time fiddling about with and it definitely pays to watch the You Tube Garmin How-To videos, of which there are several very useful ones. Once I had seen the videos though things became easier.
It has to be said that there really is so much to this device that it is fairly hard to rate and I'm still experimenting and discovering with it seven months in, still not having tried all of its elements.
It is a truly great device for someone who wants lots of track-able data and information, great for pro teams and competitive riders. I think its perhaps a bit over complicated for leisure riders and tourers who I think would want someting more intuitive and I would recommend taking a map as well as using this device regarding the navigation element.
Rating -Â 4 out of 5
For more info visit  https://buy.garmin.com/en-GB/GB/sports/cycling/edge-810/prod112912.html#gallery-dialog